NANCY REES DUFF
ARCHITECTURAL
CLOCK
Twelve inch diameter by 6mm. In Red, Cobalt, Sunflower Yellow and Dark Red on Cream background. Battery operated and ready to hang. 80.00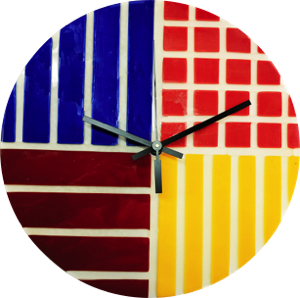 This page shows some of the pieces I've made for houses. There are a few more that I've done, but I haven't gotten pictures. This are all custom commissions and are drawn and bid for the purchaser before work is begun.
Above and left: Individual glass tiles for a door installation. Each tile measures approximately 4 inches square by 9mm thick. They also have three dimensional elements with glass leaves attached to surface. The tiles were set into a wood door with a clear center glass by the purchaser. The price for the 18 tiles alone is $500.
Below: About 20 linear feet of kitchen tiles in both glass and ceramic. These were laid single height along the countertop in a kitchen. The special design tiles - Wheat, Celtic knot, Thistle, Perch, Loon and Dog Paw Prints - were made to reflect the commissioners ancestry and lives. Tiles were made 4x4 inches and 2x2 inches in both ceramic and glass. The specialty tiles were all ceramic and were either 4x4 or 4x8 inches. The two exceptions are the small flower which is 2x2 and the small wheat which is 2x4. Price supplied on request. All tiles are custom made in both color and design. Tiles are approximately 1/4 inch thick.
Far left: wheat. Near left: Celtic knot. Below left: Scottish thistle. Below right: Perch. Further below: Loon and dog 'Trubble" paw print. Below that: Embossed leaf, wheat and 'Lucy" paw print.
Above: Assorted ceramic tiles. Left and below left : assorted glass tiles. Below: ceramic flower.
TABLETOPS
Designed to protect your wooden table tops on pieces of furniture that are likely to be stained. Kind of like a giant coaster, if you will. Above: Stylized wheat design in greens and golds. Right: Geometric design also with green and gold, but with blue, cranberry and dark red.
Both have large clear areas to show the wood underneath.